NordicTrack Treadmill Interval Workout
This isn't the first time we've discussed incorporating intervals into your treadmill workout, check out Why Intervals Work if you need a little refresher on the many benefits intervals can offer! Not only do they help you to burn more calories but they can help to make your workout a little more exciting as well, beat the boredom some often find when it comes to their treadmill runs.
So to help you break away from your usual treadmill workout and burn a little extra calories today, we thought we'd share this Treadmill Interval Workout below from our blogger friends at NordicTrack.com!
Try it out and let us know what ya think!
As you can see this workout incorporates a bit of incline and speed, as we've talked about how both have there benefits which you can read about here. But if you are a little more advanced in your incline workouts and want to bump up that incline factor to really rev up that calorie burning furnace,  try blogger PBFingers.com 25 Minute Interval Treadmill Workout below: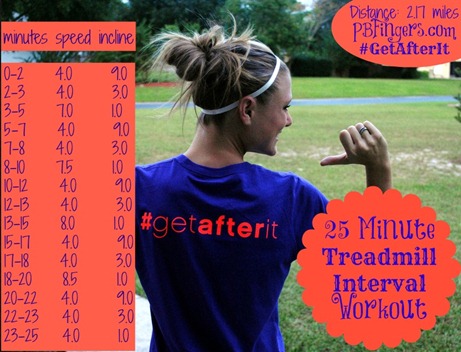 Try them both out, let us know which one's your favorite!